Summary
Oracle organized this year's Cross Talk retail industry event at the Ballantyne hotel in Charlotte, NC last week. As in previous years, the event was full of insightful presentations shared by retailers and partners on experiences learned. Oracle shared significant updates on the latest features added to the Oracle Retail solution portfolio.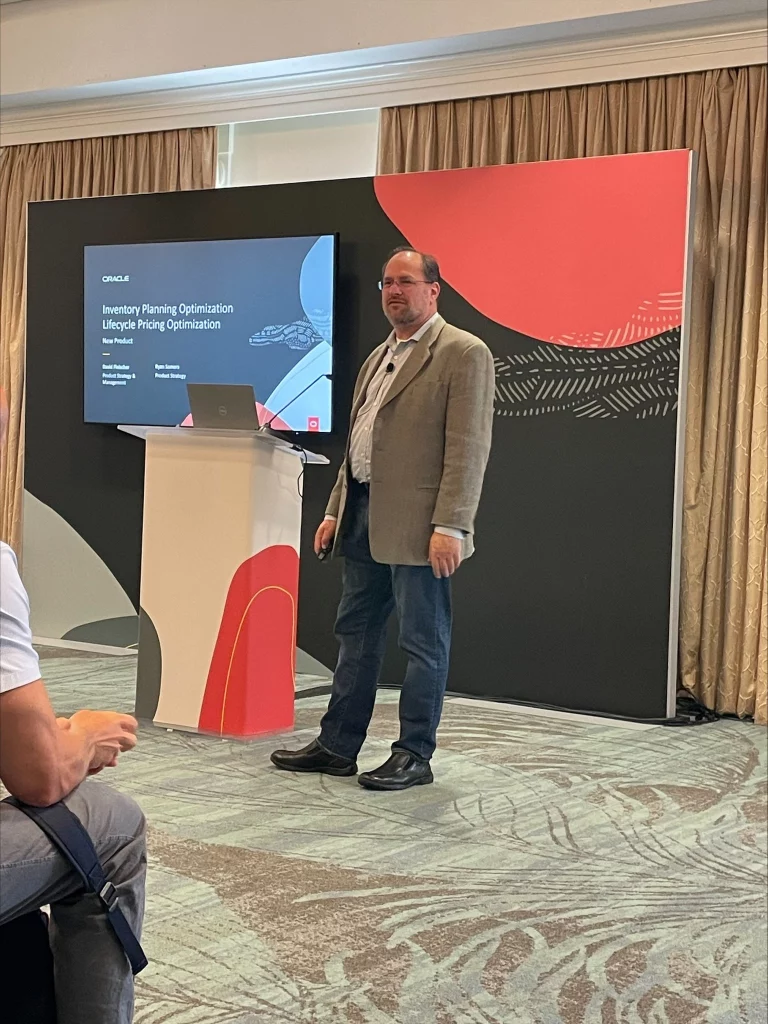 Oracle Updates – Solution
Oracle has announced two new optimization cloud services that will be released in September 2023: Inventory Planning Optimization and Lifecycle Pricing Optimization.
Inventory Planning Optimization (IPO)
IPO is a single solution that provides the complete Supply Chain capabilities. It packages the functionalities of the three existing modules below:
Demand Forecasting (RDF) – Determination of future demands

Lifecycle Item Planning (LIP) – Lifecycle-based replenishment and allocation

Inventory Optimization (IO) – Enablement of complex and dynamic inventory replenishment
Based on the common forecast and embedded AL/ML analytics, as well as IPO's capability of predicting order quantity, fashion retailers can replenish and allocate according to the different item lifecycle phases (initial allocation, discovery, maturity, end of life). On the other hand, grocery/hardline retailers are enabled to automatically optimize their replenishment based on their replenishment strategy, inventory level and past performance.
By proactively and intelligently planning future inventory, IPO allows increasing sell-through, reducing lost sales, minimizing stock-out, thus driving a higher overall profitability.
Lifecycle Pricing Optimization (LPO)
LPO is a single cloud service that combines the full capacity of the modules Offer Optimization and Promotion & Markdown Optimization.
All retailers know that pricing is crucial in terms of driving revenue, profitability, customer satisfaction, and market share. However, many pricing decisions have been made without supporting data and tools to understand the impacts. Pricing in retail becomes even more important while the economy emerges post-pandemic under the pressure of inflation.
Oracle has been named a leader in the recent IDC MarketScape: Worldwide Retail Price Optimization Solutions 2023 Vendor Assessment, due to its strengths in breadth of capabilities, excellent scalability, and easy, efficient, out-of-the-box integrations with a full range of adjacent modules and solutions.
LPO will enable retailers to optimize pricing throughout the entire product lifecycle, from regular pricing to promotion, to markdown, and to targeted offers.
Conclusion
The latest improvements in Oracle Retail Analytics and Planning (RAP) consolidate the offer portfolio to five cloud services, powered by a shared forecasting engine and AI foundation layer:
Inventory Planning Optimization (IPO)

Lifecycle Pricing Optimization (LPO)
Next Steps
Contact our experts to learn more about these two new cloud services and determine which Analytics and Planning solutions are right for you!